LATEST NEWS: Registration for the 2017-2018 Year-Round Beach Programs has opened. CLICK HERE FOR COST AND REGISTRATION INFO FOR THE YEAR-ROUND PROGRAM . Checkout the new beach club video below that recaps the 2016-2017 season.
Join us at Southern Sand Volleyball Academy (SSVA) for a unique club experience focused on bringing the fast growing and exciting sport of beach volleyball to juniors. Click below for a slideshow introducing our beach club and providing a recap of activities this past season and the testimonials video for input from both players and parents.
VIEW A LIST OF OUR CURRENT ATHLETES
What differentiates us from the others?
2017-2018 Program Info
Who? Girls ages 11-18 (Note: We do offer seasonal Girls 10-12 Young Guns and  Boys Programs too! Email John with questions)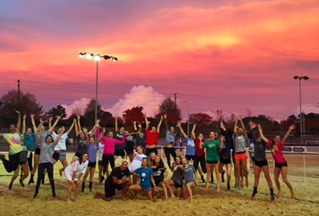 Where? Our family friendly, alcohol free, 10 sand court facility in Apex on the grounds of Hope Chapel – 6175 Old Jenks Rd
What? Junior beach volleyball club that offers the following:
High-level training sessions with jump training and conditioning
Organized competitive play through focused play sessions throughout the year (aka Competitive Training Days) – at times mixing in with college level players (Southern Sand Alumni and other college players).
Tournaments (local and travel) including several Eastern Sand Power League (ESPL) series events and national qualifier events.
Info sessions including video analysis, seminar topics, etc. (indoor sessions)
Assistance with college recruiting
Break periods are built into the schedule to give athletes a rest and factored in when determining program costs
Three program training options:

Focused Beach Option

Intended for those athletes looking to immerse themselves in sand as much as possible toward being the best sand player possible
The intention is for athletes to attend on average 3+ training events per week with some flexibility (see next bullet item) on making less or more in a given week based on week-to-week situations.
Note: Athletes are expected to attend a minimum of 2 events per week to ensure priority participation at tournament events. Advanced notice of missed weeks will be required

Cross-training-2 Option

Intended for those athletes looking to mix indoor and sand training (with a somewhat equal weighting to both), or wanting to commit to less than Focused, or can only travel to Apex on the weekends (or a couple times per week).
Attend on average 2 training events per week. There is flexibility in which days the athlete trains

Cross-training-1 Option

Intended for those athletes looking to mix indoor and sand training, with even less commitment.
Attend on average 1 training event per week. There is flexibility in which days the athlete trains

Remote Athlete Option

For players 2.5+ hours away or more. Email John for details.

Competition Packages: Regardless of the training option selected, our competition schedule is available to our beach club members. Go to the competitions page for details. Its assumed that Seasonal athletes will be compete in the Regional (in Apex) tournaments – in terms of competition package costs, but will be given the opportunity to attend travel events with an add-on cost. Competition package costs cover coach pay, travel, lodging, meals, etc.
Want to Learn More? Below is the schedule of Placement Clinics leading up to the Seasonal Beach Club. During those clinics evaluations of the athletes are made to determine which of our programs is the best fit. It is only required to attend one of the clinics, but attending more than one is possible if desired.
You must pre-register for the clinic: CLICK here to REGISTER

Sat, Mar 3, 2018 – 12:30PM – 2:30PM

Sat, Mar 10, 2018 – 12:30PM – 2:30PM

Sat, Mar 24, 2018 – 12:30PM – 2:30PM

Sat, Apr 7, 2018 – 12:30PM – 2:30PM (note: some program options will start around the time of this clinic)
2017-2018 Program Details
Beach Club – Year Round (Nov-July)
Yes, Year Round junior sand training is here and has had huge success! Our Year Round beach club programs starts with a Winter session that runs from Nov-March.  With proper cool weather gear, players are able to practice and compete throughout the winter in NC. Included in this program is the ESPL Competition Series, a tour of events that SSVA has played a lead organizer role in establishing. This series offers beach club athletes multiple opportunities, both local and travel, to face quality competition during the Nov-March period, which is traditionally an off-season for tournaments.
Practice Times*
Tuesdays & Thursdays: 4:30PM-7:00PM
Sundays: 1PM-3:30PM
Some Wednesdays: 5:00-7:00PM for "Individuals" Training
Some Saturdays (12:30 to 2:30PM): Organized Competitive Training Days. Could move to Wednesday evenings in the spring and summer.
*Focused program participants can choose to attend as many of these practices as they can with the intention being on average 3X per week. Cross-training program participants can choose to attend any of these days (average 1X or 2X per week), and attending as many Sundays as possible is recommended.
Conditioning and Jump Training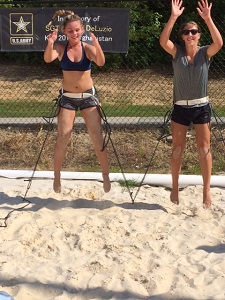 Each of the primary practices (Tu, Th, Sun) also includes a conditioning component (30 min to an hour depending on the day). Refer to the following page for details about this portion of the training:
http://southernsandvolleyball.org/juniors/conditioning-program/
Competitive Training Days
We will incorporate more competitive play throughout the season, and bring in competition – coaches, college players, adults, etc. We have noticed that competition with coaches is an excellent way for us to teach the game. We consider these training sessions, and a great way for our athletes to practice what they have learned, or things they want to try in a competitive setting. Although we will work to bring in competition, we are open to, and encourage athletes to, suggest possible competition to bring in. During the November – March period it will be on Saturdays when possible and weather allows. During the seasonal period (April – July) the plan is to hold them on Saturdays when possible, or as an option for Wednesday practices.
CLICK HERE FOR COST AND REGISTRATION INFO FOR THE YEAR-ROUND PROGRAM 
After initial deposit, monthly payments will be charged from Dec to July and will also include the monthly competition package fee. Tournament registration fees will be paid when registering for the tournaments attended. No fee for open court times during August-October (and throughout the year) will be collected from those who have already registered for the beach club.

Beach Club – Seasonal (April-July)
During the months of March/April, SSV holds Placement Clinics toward assisting juniors to find the right fit into our various spring/summer programs. One of the possibilities is an invitation to join the beach club, and joining those training and competing since November. Therefore the information listed in the Year Round section above applies.
Also special practice options for those who show a high level of ability in the sport, to play alongside college players (Southern Sand Alumni and other college players).
Please refer to our Beach Club Competition Series page which highlights the events that will have coaching available (Seasonal tournaments are highlighted in orange). Each training program includes coaching at up to 3 SSV hosted tournaments during the April-July seasonal program period. Any potential travel tournaments will be treated separately.
We do get questions asking how will playing beach only impact their ability to play indoor for their school. The truth is, playing beach doubles all spring and summer has given the athletes plenty of skill reps, and transitioning from sand to hard court will be an easy one – as they will be quicker and jump higher because of they are used to moving/jumping in sand. Some of the SSV coaches have extensive indoor experience, and can certainly answer any questions about that transition, or potentially work with an athlete to prepare them.
Practice Times*
Since those being brought into the Beach Club are joining the Year Round members, the practice times are the same as listed above in the Year Round section.
Seasonal Program Registration
Once an offer to be part beach club is given, a Placement Clinic participant will join by paying the initial deposit. Monthly payments (including tournament coach costs) will be charged in subsequent months (the last being July).
Other Training Options
Although spelled out on other pages of the website, other training options to the Beach Club programs are:
Power League: A less-intensive training/pick-up play program will also be offered during April-July 2016. More details coming soon.
Private Lessons – to be arranged separately with the desired coach
Beach Club FAQs