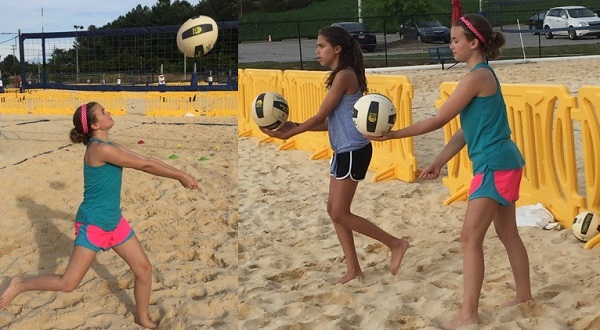 Do you have a son or daughter looking to get into a new sport? If the answer is 'Yes', how about getting them introduced to one of the fasting growing sports for juniors – sand volleyball!? Questions: email john@southernsandvolleyball.org
Description: Super Juniors is a great program for the beginner volleyball player who wants to learn the beach game.  The beach game is a great way to learn volleyball skills – low impact on the body in the sand versus hard court, many more reps being that there are only 2 people on the court, and reps in every aspect of the game. The program will be designed to help youth players learn and play beach volleyball with an emphasis on skill development.  Our purpose is to provide kids the chance to build beach volleyball skills in a fun and supervised environment.
Who? The program is offered to girls and boys ages 8-14.  Based on interest, we may offer 2 program levels. Level 1 is for players with limited volleyball experience (limited training through clinic or league play), so need age appropriate skills development and want to learn the beach game.  Previous volleyball experience is not required. Level 2 is for players who have played indoor on a club team, have good volleyball skills but looking to learn the beach game.
When? The program is offered periodically over a 4 week period as once-a-week two or one hour sessions. Kids are allowed to repeat the program until they are ready to progress to the next level which can include our year-round or seasonal beach club programs, leagues and/or tournaments.
How much? $100 per 4 sessions (1.5 hrs per session)
Where? Southern Sand Volleyball – 6175 Old Jenks Rd, Apex, NC
Registration is currently open for the following Super Juniors training programs:
Next monthly program offering is anticipated to start up in March.
Program Requirements:
Upcoming Registrations
Regular offerings will be offered from March-July. Email john@southernsandvolleyball.org if interested in opportunities to participate during these months.