John Lysik – Executive Director /Founder 


John has been coaching volleyball juniors for over 14 years and is the lead coach and coordinator for all beach club training at Southern Sand Volleyball. All questions regarding beach club training can be sent to him.  John had coached many successful teams at several volleyball clubs on the indoor side. He also served as the Assistant Volleyball Coach at William Peace University, and had been a High Performance Coach within the USAV system for 8 years.  He has also served as lead trainer at various volleyball camps and clinics throughout the region, plus he has provided private training to over 100 athletes. Numerous players he has coached have gone on to receive scholarships at the NCAA DI and DII levels, for both beach and indoor. He is recognized by area junior volleyball players and their parents for offering personal, knowledgeable, experienced, and passionate instruction. He is USAV Beach IMPACT and Beach CAP certified. John also has a bachelor's degree in Computer Engineering from the University of Connecticut, with a master's degree in Management, from Rensselaer Polytechnic Institute. He spent 10 years in software design and development, obtaining two US patents. The next 10 years of his career were spent as a program manager, before getting out of engineering and into coaching volleyball.
Mark Nalevanko – Associate Director/Founder 


Mark organized and ran junior beach volleyball tournaments and leagues for over 7 years as part of vh1vball in addition to some occasional clinic/coaching sessions and is USAV Beach IMPACT certified. He is the lead coordinator for leagues and tournaments at Southern Sand Volleyball. All questions regarding those programs should be directed to him. In the Fall 2012, he played a major role in establishing sand volleyball as a club sport at North Carolina High Schools with has grown from the inaugural season in Spring 2013 featuring 9 schools to over 50 schools in 2016. Additionally over the last 5 years he has served as the Beach Director for the Carolina Region/USA Volleyball with primary duties focused on coordinating the region's popular junior beach tour that saw over 20 events with 1000+ teams participating across the state in each of the last 3 years.  With over 15 years of sand volleyball playing experience, Mark brings an engineer's mindset, having both a bachelor's and master's degree in Computer Engineering from North Carolina State, in playing the beach game where strategy and skill diversity are important keys to being successful.
Kaylie Gibson – Coaching Staff 

Kaylie Gibson has coached two years with Triangle Volleyball Club after four years as a libero for UNC-Chapel Hill. During her time with the Tar Heels Gibson was named AVCA All-American Honorable Mention, ACC Defensive Player of the Year, All-ACC pick and AVCA All East Region. She currently ranks second in dig average in school history and helped lead a UNC defense to a top ten national digs per set ranking.
In high school Gibson was named Tri-8 Conference Player of the Year as a junior at Apex High School and was a four-year starter in addition to being an active beach volleyball player including a 4th place finish at the 2006 AAU Junior Olympics. Gibson graduated from UNC in 2012 earning a B.S. in Exercise and Sports Science.

Lisa's knowledge of the human body and her experience in working with orthopedic diagnosis helps guide each participant's conditioning needs. As an occupational therapist, her expertise is in performing "task analysis" as a way to determine how to pair exercise for improved performance and strength. This concept also applies to pairing eye hand coordination drills and practice for improved performance on the court. Her high energy motivates individuals to accelerate their overall development.
Lisa has a degree in occupational therapy from Quinnipiac University. She has 25 plus years of experience, with a focus on orthopedic and pediatric therapy. She enjoys working with kids and young adults, as well as the adult population. Lisa also applies her therapy knowledge and passion to help the individuals she coaches. Lisa is actively involved in the sport through pick-up play, leagues, tournaments, and assisting in private lessons. She has 10 plus years of sand volleyball playing experience.
Brian McKay – Coaching/Programming Staff

Brian has had a passion for volleyball since the early age of 15 playing pick-up games on the sand at Atlantic Beach, NC along with surfing, running, and training for high school sports of football and basketball. His mom's Hawaiian heritage and her love for volleyball fueled his enthusiasm for beach sports. Brian has been organizing volleyball events and teams along with competing in tournaments and leagues for 37 years. He has his BS degree in Business Management from Mount Olive College and has worked as a manager in mortgage servicing for many years.
Brian has played with teams that have won many outdoor/indoor tournaments and leagues in Open, AA, and A levels and still continues to compete at Southern Sand and in area leagues and competitions. He has worked as a coach for junior teams and as a player coach for adult USAV teams over the years. He has his USAV Indoor and Beach Impact certifications and will continue to support Southern Sand Volleyball by running events and helping with coaching opportunities.
Darren Roberts – Coaching Staff

After playing 2 seasons indoor at Santa Monica College, Darren moved to the sand where he began learning the vastly different game of Beach Volleyball.
He played 2-man Volleyball for nearly 15 years in Hermosa and Manhattan Beach. In that time, he was invited by Coach Anna Collier to join the Training Team for many of the top AVP Players and future Olympians. He spent 5 years working with the worlds best players and learning the game at an elite level.
He is honored to be part of the Coaching Staff at Southern Sand, working with North Carolina players preparing to play at the college level and beyond.
Kevin Espinoza – Coaching Staff 

Kevin has been playing and coaching volleyball for over 30 years. As a player, he played for Wave Rave and Front Range Juniors in Colorado. He played on teams that won regional championships and competed in the JO National Championships. He also began, at a young age, playing sand and grass doubles while in Colorado. He played for a highly competitive Club volleyball team at the University of Kentucky and competed in three consecutive National Championships. After playing, he coached Juniors (girls and boys) in Kentucky and Massachusetts, taking multiple teams to the JO National Championships. Kevin has also coached a successful girls high school program in Kentucky. As a college coach in West Virginia, his program set the NCAA record for consecutive conference wins and competed in the NCAA tournament. In his full-time coaching days, Kevin enjoyed spending his summers coaching collegiate camps across the country. His goal was to learn as many technical approaches to player development as possible from several Hall of Fame coaches. Kevin and his wife Jamie have recently returned to playing sand volleyball in various leagues and tournaments at Southern Sand. When not trying to find his sand legs, Kevin is an avid distance runner and proud dad of a D-I volleyball player and 3 other accomplished children.
Russ Wolfinger – Coaching Staff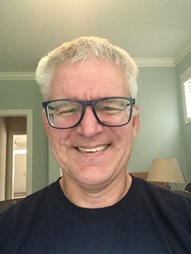 Russ has been coaching juniors volleyball for ten years, passionately pursuing the dual goals of virtuous character development and competitive excellence as advocated by the Positive Coaching Alliance.   While measuring and quantifying personal impact is difficult, he has helped hundreds of players and parents deal effectively with the challenges of the sport using advanced mental toughness and integrity principles, providing key foundational skills for a successful and fulfilling life.
On the competitive side he has over 200 wins and several conference and state-level championships.   After intense participation throughout high school, college, and beyond in a variety of sports, including wrestling, golf, basketball, softball, ultimate frisbee, and Brazilian jiu-jitsu, he fell in love with volleyball when two of his daughters began playing, and has since been helping grow and improve the game locally both indoor and beach at Grace Christian, Club Red, NC Academy, and Green Hope.
He is very grateful for the tutelage of many wise mentors, including Coach Li, Rita Stubbs, Traci Smith, and Jody Brown, and for the opportunity to now work with the great staff, players, and parents at Southern Sand.  With a PhD in Statistics, he enjoys all things analytical and is constantly seeking better ways to optimize team and individual performance mentally, emotionally, and physically.
Selena Dickinson – Coaching Staff 

Coach Selena fell in love with sand volleyball when she moved to North Carolina in Fall 2016. An indoor club volleyball coach for NC Volleyball Academy and a 4-year collegiate defensive specialist for Milwaukee School of Engineering, Selena is excited to help athletes translate their skills learned in the gym to the sand. In high school, Selena was a libero/outside hitter and captain of the varsity Volleyball and Track teams, helping to lead her volleyball team to two back-to-back Regional Championships. Her work in high school led to being awarded 2nd Team All-Conference Defensive Specialist, Honorable Mention All-Conference Libero, and WIAA Scholar Athlete. Selena played 4 years of varsity college volleyball, and graduated with high honors in Biomolecular Engineering. Coach Selena is very happy to be part of the Southern Sand family, where players are taught key volleyball techniques as well as invaluable life skills like hard work, determination, and teamwork.
Stephanie Fahrer – Coaching Staff 

Coach Stephanie Fahrer begins her 6th season as a volleyball coach.  Fahrer has had both experience and success as a Varsity and JV high school coach.  She is currently the head varsity coach at Apex Friendship High School.  Along with her experience at the high school level, Coach Fahrer has coached club volleyball for 2 years at NC Academy.  She has been the head coach for both a National and Regional team in her two years at Academy.  Highlights of her previous seasons include assistant to 3rd place NCHSAA playoff finish, CAP-8 tournament champions, 3 second place finishes at club tournaments, a Carolina Regional Runner-up, and a Carolina Regional Championship.
Originally from Statesville, Fahrer has lived in Raleigh since she attended NCSU where she played for the NCSU club volleyball team.  An avid player for more than 15 years, Fahrer still competes in indoor and outdoor tournaments in the area.  Coach Fahrer is excited to begin her sand coaching experience with Southern Sand Volleyball and to continue growing in the sport of volleyball.
Kim Sulman – Coaching Staff 


Coach Kim Sulman is a certified Personal Trainer, the Assistant Athletic Director and Physical Education teacher for grades 1-12. Along with teaching she provides athletic conditioning for Carolina Friends School Varsity athletes. Her athletic and coaching career spans decades. She began her athletic career at 5 as a competitive figure skater. Alongside figure skating she played college soccer, varsity track, basketball and was on the Ontario Junior and Senior European handball teams. She's also coached middle school  soccer and basketball. After college she played and coached ultimate frisbee at the national and international level with several trips to the UPA National Championships and at the Canadian Championship finals. She fell in love with volleyball when her daughters started playing varsity and club volleyball. Coach Kim is delighted to grow her volleyball coaching experience at Southern Sand Volleyball.
Lizzy McDaniel – Coaching Staff 

Lizzy is a class of 2016 Southern Sand Beach Alumna who played for the club since it began with its pilot program. She was a member of the cross-training program for the 2014-2015 season while still playing indoor club volleyball and became a full time player for the 2015-2016 season. Lizzy represented the club in various Carolina Region and national travel tournaments. Lizzy is a recent graduate of Panther Creek High School where she played for four years on the volleyball team. Senior year, Lizzy helped the team to reach the third round of state playoffs for the first time in school history and was named to the academic all-conference team. Lizzy graduated as a member of National Honor Society and with North Carolina Academic Scholar recognition.  She now attends North Carolina State University where she is majoring in Elementary Education.
Raquel Rooney – Coaching Staff 

Raquel is a Southern Sands Beach Volleyball Alumna who represented the club as a leader in its beginning years.  She attended Athens Drive High School and competed on both the indoor and sand team.  Senior year she was Captain of her indoor team and was named MVP.  Academically Raquel was a four year honor roll student, a part of her school's Health Science Academy and graduated in 2016.  As a 16 year old she was ranked by USAV the #1 beach volleyball player in the country for the 16U division.  Raquel competed in and won several Carolina Region beach volleyball tournaments, regional championships, and earned bids multiple years to the USA Volleyball Junior Beach Nationals along with bids to the West Coast AAU Junior Olympic Games.  She competed in both national competitions and is now pursuing the life of a beach volleyball student athlete at the University of North Carolina at Wilmington majoring in Exercise Science.
Hailey Brook McFadden – Coaching Staff 

Hailey is a current defensive specialist and libero on the Wake Forest University volleyball team. She played 5 years at Triangle Volleyball Club, and now coaches there as well. She is a 4 time prepvolleyball.com defensive dandy and was named on prepvolleyball.com's Top 150 Senior Ace list. During her 18 black year at Triangle she won Triangle's "Board Award" which rewards dedication, service, and passion for the sport of volleyball. She attended Wake Christian Academy where she played outside hitter. She was TISAC player of the year her senior year and she lead her team to their first ever conference championship and state tournament. Her senior year, McFadden also set a North Carolina all time record in kills. McFadden also qualified for beach nationals 5 times and attended three times during her beach career, and competed for Southern Sand Volleyball during the 2014-2015 Year Round season.
Margot Ruffieux- Coaching Staff 

Margot competed in both indoor and sand for Green Hope High School. She earned a bid to compete at the USA Volleyball Junior Beach Nationals consecutive years as well as invite to HP A-2 beach camp. Margot currently plays as a 6 position OH at Bryant University and started in 23 matches as a freshman during the 2015 Season until a wrist injury side-lined her as part of the Bulldog's most winning season ever in Division I competition. Margot was a four-year varsity letter winner at Green Hope High School and was a two-time team MVP and 2014 all-conference first team selection as well as a four-year honor roll student. Margot has also been a swim coach at Wellsley for 6 years and spent a year as a Cary YMCA swim instructor.
Lauren Durham – Coaching Staff 

Competed for three years on the sand volleyball club team at Middle Creek High School … Placed first at the North Carolina Sand Volleyball Association championship in 2014 … Earned a bid to compete at the USA Volleyball Junior Beach Nationals … Also competed on the indoor volleyball team for four years … Helped lead Middle Creek HS to a 15-7 record in 2014. Played for  the Southern Sand year round program and is the first graduating player from Southern Sand to play collegiate beach volleyball. Is currently a freshman at Stetson University majoring in Biology.
Christin Heverly – Resource Coach

Christin played volleyball while in college at UNC Greensboro from '03-'07. She was team captain and led the team to the biggest turn around in the nation; the team went plus 18 games. After graduating from UNCG, she spent 5 years as the assistant varsity coach at Orange High School. She has been a part of USAV since 1999, and has been coaching in the Carolina Region since 2002. She currently coaches for NC Academy Volleyball Club. Christin has coached at many clinics and camps; as well as given private, group and individual lessons. She currently is one of the assistant coaches at William Peace University, and has been with WPU since the spring of 2012. Christin remains actively involved in the sport, and continues to play competitively indoor, grass, and sand.
Christin has a bachelor's degree in exercise and sport science with a sports medicine concentration from UNCG. She also has an associate's in health science from Mount Olive College, a diploma in nursing from Watts School of Nursing, and a bachelor's degree in nursing at Winston Salem State University. She currently works as a registered nurse at Duke University Hospital.
Crystal Waddell – Resource Coach


Crystal has been coaching volleyball for over five years in the North Carolina public school system and currently coaches at Grays Creek High School in Hope Mills, North Carolina. Crystal began her playing career in Hutchinson, Kansas, where she graduated high school and then attended Hutchinson Community College as a setter. Crystal then attended the University of Kansas and participated on the Women's Club team. She finished her Master's Degree in Teaching in 2010 at the University of North Carolina at Pembroke. Crystal was named Co-Coach of the Year for the Cape Fear Valley 3A League in 2013. She also coaches club volleyball for Club Synergy in Fayetteville, North Carolina and has earned her Beach IMPACT certification. Crystal is excited about the opportunity to help grow the emerging sport of sand volleyball in North Carolina and help young women achieve their goals in the sport and beyond.
Kevin Daniels – Resource Coach 

The son of military parents and proud prior service member himself, Kevin has seen volleyball in almost every corner of the world. His coaching career began in the late 90's on the west coast and has landed him here in Raleigh as the Head Coach of the William Peace University Volleyball program. Before coming to WPU, Daniels coached several national level club and High Performance teams.
Since arriving at WPU, the program has seen it's greatest success. Each team, to include last years record setting 22-win team, has qualified for tournament play.
Off the court Daniels believes in staying active physically and mentally. He is a Level I CrossFit instructor (CrossFit WPU) and had been a personal trainer since 2002. Believing strongly in education, Daniels has a Bachelor of Science from Mount Olive College (now the University of Mount Olive), also where Daniels played collegiate baseball. He also has a Master of Arts from Liberty University, where he is currently pursuing a doctorate of education.